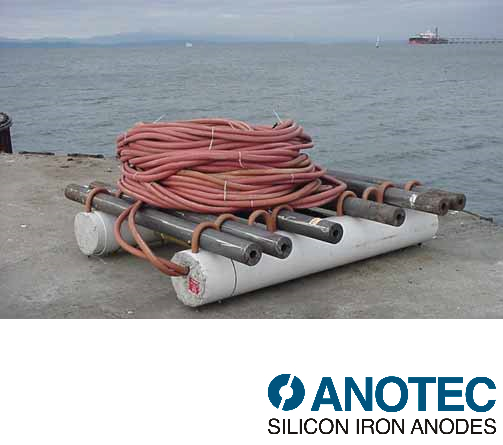 For more information,
ordering & pricing
OR BY PHONE:
+1 (800) 676-4984
For enquiries betweeen 9am and 5pm EST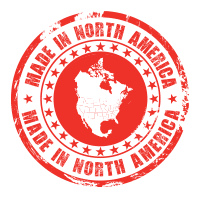 PRODUCT DESCRIPTION
Six, heavy high silicon cast iron (HSCI) anodes, each 315 lb / 140 kg, are securely mounted on a corrosion resistant frame (sled). The sled weighs approximately 2,000 kg (4,410 lb), depending upon the size and length of shore lead cable. The footprint is nominally 2.1 m x 2.0 m x 0.6 m (7 ft x 6.5 ft x 2 ft).
APPLICATION INFORMATION
The anodes are spaced for uniform current discharge and consumption. Although HSCI in sea water can withstand current discharge amperages exceeding 5 Amps/sq. ft.
(55 Amps/sq. m), the following factors should be considered.
Environmental regulations may restrict sled discharge current to lower values. (i.e. less than 1 Volt/meter electric field strength in natural waters).
Sled life will depend upon the weight of anodes (1,890 lb), the discharge amperage, their consumption rate, and utilization efficiency (85%).
MATERIALS ENQUIRIES
Corrosion Service is an authorized reseller for Anotec High Silicon Anodes in North America. Our dedicated product representatives are fully trained in their use, and are available to answer any questions or provide demonstrations on request. Our dedicated materials supply team holds stock and spare parts at our Eastern and Western distribution hubs and are capable of meeting any sales request throughout Canada.