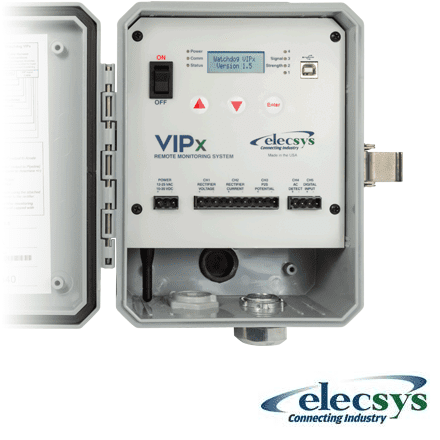 For more information,
ordering & pricing
OR BY PHONE:
+1 (800) 676-4984
For enquiries betweeen 9am and 5pm EST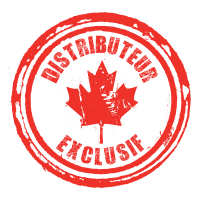 Le VIPx de Watchdog est conçu spécifiquement pour la majorité des applications de surveillance des redresseurs. Il inclut des canaux de mesure analogiques dédiés et préconfigurés pour le voltage, la tension et le potentiel tube-sol. L'unité est équipée d'une sonde de courant alternatif et surveille le courant électrique d'entrée du redresseur. Un canal numérique additionnel de contact à sec peut être utilisé comme un canal de surveillance d'alarme momentané (alarme de porte pour détection d'intrusion, par exemple), ou pour la surveillance de statuts (position de la soupape, etc.).
Caractéristiques
Système de surveillance du redresseur de CP économique et facile à utiliser
Alimentation par 10-35 VCC ou 12-25 VCA externes
Circuit résistant aux surtensions et aux dommages causés par la foudre
Pile interne pour assurer le fonctionnement continu même durant une panne de courant
Affichage LCD pour information sur le site
Entrées : 3 analogiques, 1 numérique et 1 entrée numérique de détection de courant alternatif (utilisant la sonde de courant alternatif incluse).
Applications
Conçu spécifiquement pour les applications de surveillance de base de redresseurs
Configuré en usine pour surveiller le voltage du redresseur, la tension et le potentiel tube-sol
Entrées additionnelles :

Entrée numérique de contact à sec (alarme ou surveillance de statut)

Surveillance d'entrée d'alimentation du redresseur
RENSEIGNEMENTS SUR LES MATÉRIAUX
Corrosion Service est le distributeur exclusif au Canada pour Elecsys, principal fournisseur des solutions de technologie M2M (machine to machine) et de l'électronique sur mesure pour les applications industrielles essentielles. Nos représentants des produits dévoués sont parfaitement formés à l'utilisation des produits Elecsys et sont disponibles pour répondre à toutes questions ou pour offrir des démonstrations sur demande. Notre équipe en approvisionnement de matériaux dévouée conserve le stock dans nos centres de distribution Est et Ouest et est en mesure de répondre à toute demande de vente au Canada.